Healthy Versions of Favorite Thanksgiving Side Dish Recipes
Nov 16, 2020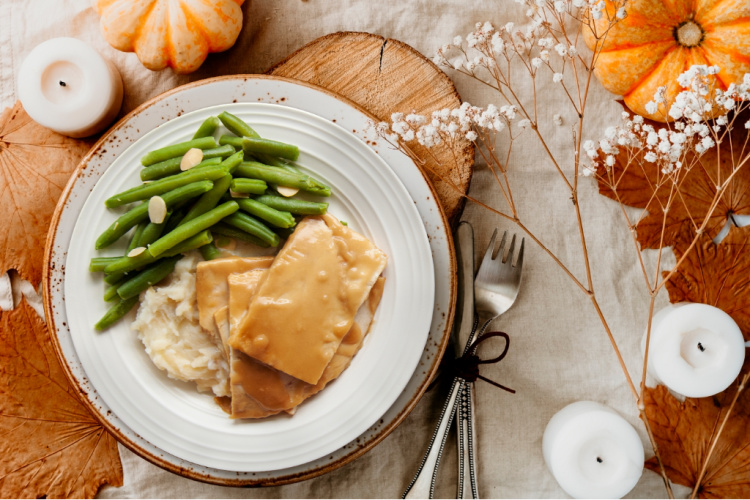 Believe it or not, Thanksgiving is right around the corner.

It's one of the best holidays — a time for family to gather, sit down for a meal, maybe play a game or two, watch some football, and most importantly, enjoy each other's company.

It's also a time for food — and lots of it. And although it's okay to indulge every once in a while (even when you're trying to lose weight), there are options for enjoying a delicious, savory Thanksgiving meal without the typical average 4,500 calories Americans consume that day.

We rounded up healthy alternatives to your favorite Thanksgiving classics — everything from stuffing, to green bean casserole, to mashed potatoes, to pumpkin pie and more. Substituting just one of these dishes for the traditional recipe can work wonders to slashing calories without feeling deprived.

Healthy Stuffing

Less sodium, even more taste and only 50 minutes to make? Sign us up! This stuffing recipe is packed with flavor and a much lighter version than the classic one.

Prep/Cook Time: 50 minutes
Servings: 16
Calories: 103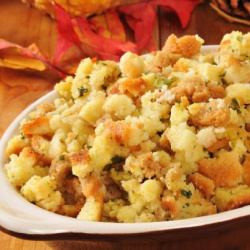 1 tbsp light butter
14 oz stuffing bread (such as pepperidge farm
or mrs cubbison)
1/2 cup chopped onion
1/2 cup diced celery
1/2 cup diced carrots
1/2 cup diced mushrooms
2-3 cloves of garlic
2- 2 1/2 cup chicken broth
poultry seasoning to taste ( I usually use 1-2 tsp)
pepper to taste around 1 tsp


Preheat the oven to 350 degrees.
Heat a large saute pan and add butter. Spray with cooking spray, then add carrots and saute. Add celery, onion, garlic and mushrooms, adding additional cooking spray if needed.
Continue cooking until veggies are tender, then remove from heat and transfer to a bowl. Allow to cool slightly
In a large bowl, add bread stuffing and veggies. Toss together, season with pepper and poultry seasoning. Add chicken broth mixing until moist but not soaking.
Spray a casserole dish with cooking spray, add stuffing mix and cover with foil.
Bake 20-25 minutes, then uncover and cook an additional 10 minutes or until slightly crispy on top.

Recipe courtesy: Spark People

Skinny Garlic Mashed Potatoes

Substituting cauliflower for potatoes is always an option, but if you don't want to go quite that far and still want something a bit lighter, these garlic mashed potatoes are just the thing. They use a naturally butter potato instead of extra butter and a pop of garlic flavor to elevate their taste to the next level.

Prep/Cook Time: 45 minutes
Servings: 5
Calories: 165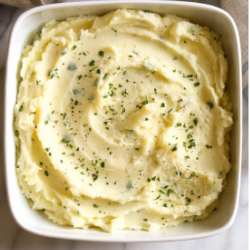 2 lbs, 4 medium yukon gold potatoes, peeled and cubed
4 large garlic cloves, peeled and halved
1/4 cup light sour cream
1/2 cup fat free chicken broth, sub vegetable broth for vegetarian
1/4 cup skim milk
1 tbsp whipped butter
kosher salt to taste
dash of fresh ground pepper
1 tbsp fresh herbs of choice: parsley, thyme, chives


Put potatoes and garlic in a large pot with salt and enough water to cover. Bring to a boil.
Cover and reduce heat. Simmer for 20 minutes or until potatoes are tender.
Drain and return potatoes and garlic to pan. Add sour cream and remaining ingredients. Using a masher, mash until smooth.
Season with salt and pepper to taste.

Recipe Courtesy: SkinnyTaste

Healthy Cranberry Sauce

One of the primary things that makes cranberry sauce not so healthy is added sugar. When you take that part out, it's actually quite a healthy dish! This recipe does just that, using 7 simple ingredients and juice to give it a natural, citrusy flavor that will make it quite the hit among your family and friends.

Prep/Cook Time: 15 minutes
Servings: 8
Calories: 109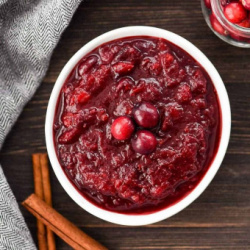 1 12 oz bag of fresh cranberries, rinsed
¼ cup orange juice
¾ cup apple cider or unsweetened apple juice
½ cup pure maple syrup or honey
¼ cup coconut sugar
1/8 tsp ground cinnamon
pinch of sea salt


In a medium sauce-pan over medium-high heat, whisk together orange juice, apple cider, maple syrup and coconut sugar.
When the mixture starts to boil, whisk in the cinnamon and a pinch of salt.
Pour cranberries into the saucepan and reduce heat to a simmer.
Simmer the mixture uncovered for 10 - 12 minutes, stirring occasionally, until cranberries begin to pop.
Gently mash the cranberries to thicken the mixture.
Simmer for another 3 minutes and then turn off heat, but leave the pot uncovered on top of the burner to cool and thicken for 20-30 minutes.
Store in the refrigerator in a covered container. (Best served chilled).

Recipe Courtesy: Joy Food Sunshine

Healthy Green Bean Casserole

Green Bean Casserole is a classic comfort food packed with cheesy deliciousness, bread crumbs and a mouthful of amazingness. Substituting some of the recipe's typical ingredients, however, can cut back on the calories without cutting back on the creamy, crispy flavor that we all love.

Prep/Cook Time: 55 minutes
Servings: 10
Calories: 169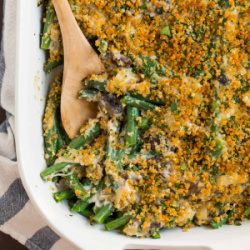 1/2 cup whole wheat panko breadcrumbs
1/4 cup freshly grated Parmesan cheese
2 tbsp chopped fresh parsley - plus additional for garnish
4 tbsp extra-virgin olive oil - divided
2 1/2 pounds green beans - trimmed
1 medium onion - very thinly sliced
8 ounces baby bella (cremini) mushrooms - sliced
3 tbsp all-purpose flour
2 cups 2% milk
1 teaspoon kosher salt
1/2 teaspoon black pepper
1/8 teaspoon ground nutmeg
7 ounces 2% Greek yogurt


Position a rack in the upper third of your oven and preheat to broil. Lightly coat a 2-quart, broiler-safe baking dish with nonstick spray.
In a small bowl, stir together the Panko, Parmesan, parsley, and 2 tablespoons olive oil. Set aside.
Blanch the green beans: Bring a very large pot of water to a boil. Prepare an ice water bath and set out a large, clean kitchen towel. Place the beans in the water and cook just until crisp-tender, about 3 minutes. Plunge into an ice bath to stop the cooking, then drain and transfer to the towel. Lightly pat dry.
Meanwhile, heat 1 tablespoon oil in a large, wide saucepan over medium heat. Add onion and mushrooms. Cook, stirring frequently, until the onion is soft and golden and the mushrooms brown and have given up their liquid, about 15 minutes. Add the remaining 1 tablespoon olive oil. Sprinkle the flour over the top. Cook, stirring, for 1 to 2 minutes more, until all of the flour turns golden and no white bits remain.
Slowly add the milk a few splashes at a time, stirring between each addition to prevent lumps from forming. Increase the heat to medium high. Stir in the salt, pepper, and nutmeg. Cook and stir, allowing the sauce to bubble, running a wooden spoon or spatula along the bottom of the pan. Continue cooking and stirring until the sauce reduces and thickens to resemble a creamy gravy, about 8 to 10 minutes. Remove from the heat and stir in the Greek yogurt.
Transfer half the green beans to the prepared baking dish. Spread half the sauce over the green beans. Add the remaining green beans and top with the remaining sauce. Sprinkle the breadcrumb mixture over the top.
Broil, watching closely, until the casserole is bubbling and beginning to brown on top, 1 to 3 minutes, depending on your broiler.
Let stand for 10 minutes prior to serving. Garnish with additional fresh parsley.

Recipe Courtesy: Well Plated

Lightened Up Sweet Potato Casserole

Butter, sugar and marshmallows are the usual go-tos for this dish, and you can imagine how many extra calories that translates to. This version opts for a bit of maple syrup to sweeten things up instead, and the result is nothing short of exceptional.

Prep/Cook Time: 1 hour, 30 minutes
Servings: 8
Calories: 212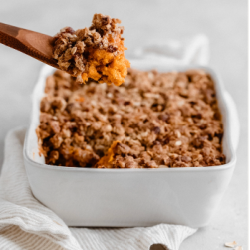 For the potatoes:
3 pounds sweet potatoes (about 3 large or 5 medium sweet potatoes)
2 ½ tbsp pure maple syrup
1/2 cup unsweetened almond milk (or milk of choice)
1 tbsp vanilla extract
1 egg (or can leave out if vegan)
1 teaspoon cinnamon
1/4 teaspoon nutmeg
pinch of allspice
1/4 teaspoon salt

Topping:
1/4 cup whole wheat pastry flour or regular flour (if GF, use gluten free oat flour)
1/3 cup rolled oats (gluten free if desired)
1/3 cup packed brown sugar (or coconut sugar)
1/2 cup coarsely chopped pecans
3 tbsp melted butter (or sub vegan butter or coconut oil)


Preheat the oven to 400 degrees F.
Wash sweet potatoes and use a fork to poke holes in sweet potatoes; about 4-5 pokes per potato used. Place sweet potatoes on a baking sheet lined with foil and roast for 45 minutes-1 hour or until very fork tender. Allow potatoes to cool for 5-10 minutes. Lower oven heat to 350 degrees F.
Spray a 8x8 inch pan, 9 inch pie pan, or a 1 1/2 quart or 2 quart safe baking dish with nonstick cooking spray; set aside.
Cut open sweet potatoes and discard the skin, place sweet potato flesh in a large bowl and add in maple syrup, almond milk, vanilla, egg, cinnamon, nutmeg, allspice and salt. Use an electric mixer to beat until smooth, adding a splash more almond milk if you want them to be creamier. Pour into the prepared baking pan and smooth top.
To make the topping: Whisk together flour, oats, brown sugar, and pecans. Use a fork to stir in melted butter until a nice crumb forms. Sprinkle all over the top of the sweet potato mixture.
Bake for 25-30 minutes or until the top is slightly golden brown. Remove from the oven and let cool for 5-10 minutes.

Recipe Courtesy: Ambitious Kitchen

Lemon Garlic Brussel Sprouts

Brussel sprouts are more popular on the Thanksgiving table in some parts of the country over others. And, in general, it's hard to go unhealthy with a dish that's primary ingredient is a vegetable. Take this year's dish up a notch with a recipe that leverages lemon and garlic, too, to boldly spike the flavor.

Prep/Cook Time: 35 minutes
Servings: 4
Calories: 95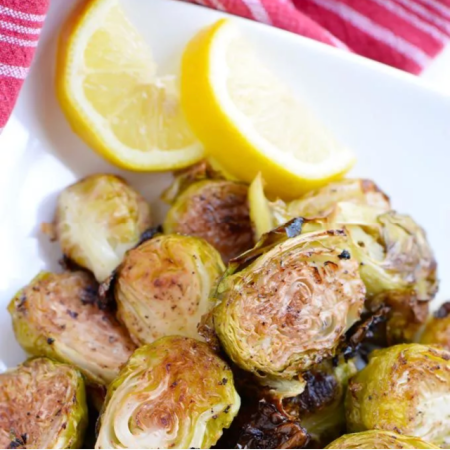 1 pound brussels sprouts, trimmed
1.5 Tablespoons olive oil
1/4 teaspoon garlic powder
salt and pepper to taste
Juice of 1 medium lemon


Preheat the oven to 400 degrees.
Cut the rough stems off the ends of the Brussels sprouts, and cut the remaining sprout in half, peeling away any leaves that look shriveled.
Place the halves on a sheet pan, lined with parchment to prevent sticking, and drizzle with olive oil.
Sprinkle on lemon juice, salt, pepper and garlic powder, and toss with hands to help coat all the pieces.
Cook in the oven for about 10 minutes, and then carefully remove, toss and flip everything over to make sure it gets cooked evenly.
Cook an additional 15 minutes or so, until your Brussels sprouts reach desired golden brown crispiness.
Add more lemon juice if desired, salt or pepper (to taste), and serve warm.

Recipe Courtesy: A Pinch of Healthy

Healthy Mac and Cheese

Believe it or not, it's not impossible to whip up a version of this comfort food that still has all the creamy, cheesy taste but doesn't use boatloads of flour and butter. Substituting in vegetable broth and butternut squash can work wonders for reducing the calorie-overload that traditionally comes with this dish.

Prep/Cook Time: 50 minutes
Servings: 4
Calories: 390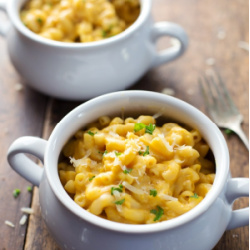 2 cups uncooked elbow macaroni
1 tbsp butter
1 small yellow onion
1 small butternut squash (4–5 cups cubed)
5 cups chicken or vegetable broth
3/4 cup milk
1 tsp salt
2/3 cup shredded cheese
Parsley for topping
Salt and pepper to taste


Cook the macaroni according to package directions. Drain and set aside. Heat the butter in a large skillet over medium low heat. Cut the onion into thin rings and add to the butter in the pan, sauteing over low heat until fragrant and golden, about 20 minutes.
Meanwhile, remove the skin and the seeds from the squash. Cut the flesh into small cubes. Bring the broth to a boil and add the squash. Cook for 5-7 minutes or until fork tender. Drain, reserving 1/2 cup broth, and transfer squash to the blender. Add the onions, milk, salt, and reserved broth and puree until completely smooth and creamy. This should yield about 4 cups of sauce.
Pour the pureed sauce over the cooked noodles and add the shredded cheese. Stir to melt the cheese; add water or milk to adjust consistency as needed.
Serve with parsley, salt and pepper to taste.

Recipe Courtesy: A Pinch of Yum

Healthier Pumpkin Pie

Who says healthier versions of the classics can't taste better? This delectable version of the classic proves it. It uses less sugar and a range of yummy spices to enhance the flavor beyond what you have ever tried before — creamy, rich and downright delicious.

Prep/Cook Time: 1 hour, 5 minutes
Servings: 8
Calories: 191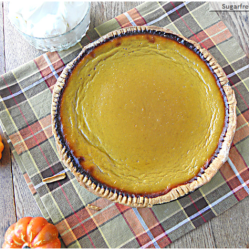 1 whole wheat pie crust
1 can 15 ounce pure pumpkin or 2 cups fresh
1/2 cup milk I used 1%
4 beaten eggs
1/2 teaspoon salt
2 teaspoons vanilla extract
2 teaspoons pumpkin spice or mix together nutmeg cinnamon, cloves
1 teaspoon vanilla liquid stevia


Prepare your crust from the recipe above.
Preheat oven to 350 degrees.
Lay aluminum foil over the pie crust and add pie weights or raw dry beans, about 2 pounds.
Spread beans over the bottom of the pie on foil.
Place pie plate onto a baking sheet. Bake the crust for 10 minutes then remove the foil and beans and bake another 10 minutes.
While the crust is baking prepare your filling. Mix all ingredients together in a bowl.
Pour filling mixture into the crust.
Bake for 45 minutes -1 hour or until center is set
Cool to room temperature on wire rack.
Refrigerate until ready to serve.

Recipe Courtesy: Sugar Free Mom


Do you have a healthier version of a favorite classic Thanksgiving dish? Share a link in the comments below!
------------------------------------------------------------------------------------
Author: Caitlin H
Diet-to-Go Community Manager

Caitlin is the Diet-to-Go community manager and an avid runner. She is passionate about engaging with others online and maintaining a healthy, active lifestyle. She believes moderation is key, and people will have the most weight loss success if they engage in common-sense healthy eating and fitness.