7 Diabetes-Friendly Creative Snack Recipes
Sep 12, 2016


Diabetes, Snacking, & Weight Control
If you have diabetes sometimes you need a little extra to carry you between meals. Planning your diet so that you don't have extreme dips in blood sugar is not only a smart choice for weight loss, but it's critical to your health.

That's why, when you have diabetes and you're trying to lose weight, choosing the right snacks can get a little tricky, especially if you want to work in some new flavors.

The key, as with all weight loss, is to eat fewer calories than you burn. (Not sure how many calories you should consume each day? Try our Free Diet Analysis tool.) As long as you're adding snacks that fit into your personal calorie budget, you're okay to eat snacks in addition to your meals.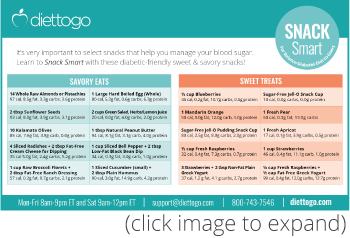 There are lots of great options for diabetes-friendly, quick snacks as shown in the chart to the right— almonds, blueberries, olives, sunflower seeds, peanut butter, cucumbers, to name a few! Click at the right to enlarge our quick and easy Diabetes Snack Idea List.

Susan Brown, author of Type 2 Delicious, a blog focused on diabetes, says her go-to snacks are hummus and blanched veggies, and cheese and whole grain crackers.

"It's always tempting to snack on something you love and used to indulge in freely, like potato chips. With diabetes, you need to be aware of carb numbers," she cautions.


Okay, So No Chips. But craving Something A Bit More Creative?
We've rounded up seven yummy diabetes-friendly, low-calorie snacks that you can munch on to tide you over until the next meal.


Can we say OMG? These things are easy to make, pack alongside your lunchtime Diet-to-Go meals and pop in your mouth when you start to get that 3 p.m. feeling.

Servings: 16 balls

Net Carbs: 3g
Calories: 167

Ingredients:

3/4 cup natural peanut butter
1/2 cup vanilla protein powder
1 teaspoon vanilla extract
1/2 cup shredded coconut
1/4 cup slivered almonds

Directions:

Place all the ingredients into a bowl and mix together to combine.
Next get your hands dirty and roll the balls into 1/2" (1.5 cm bite sized balls) - makes about 15 balls.


Place them into a container as you go and store them in the fridge. These will keep for months like this - but I hope you'll eat them before then.

Recipe Courtesy: Diabetes Meal Plans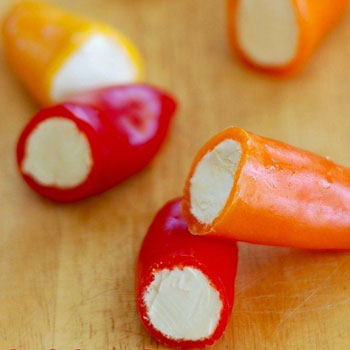 Take scrumptious little sweet mini peppers to the next level. All you have to do is add a little cream cheese!

Servings: 12-16 (Depends on size).

Calories: 90
Net carbs: 1g

Ingredients:

1 lb. mini bell peppers
Full fat cream cheese
Herbs (optional)

Directions:

Wash each baby pepper and slice the top off and scoop out any little seeds that may remain.
With a blunt knife (like a butter knife) slowly stuff each pepper with cream cheese until they are completely full.

Store in the fridge for up to 3 days.

Recipe courtesy: Ditch the Carbs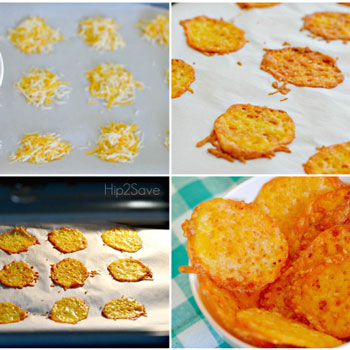 Cheese lovers: This one's for you. Believe it or not, you can take cheese with you for a delicious, on-the-go snack. All you have to do is prepare it correctly. ;)

Servings: Varied

Calories: 70 (per 1-cubic inch chip)
Net carbs: 0.3g

Ingredients:

Shredded cheddar cheese (or any other firmer cheese like Parmesan)
Desired herbs & spices (optional)

Directions:

reheat oven to 350 degrees. Mix any herbs and spices you desire with shredded cheese. Line a baking sheet with parchment paper. Sprinkle about a tablespoon of shredded cheese in a flat circle, leaving about two inches in between for them to spread out. Bake in the middle rack of the oven for about 5-10 minutes until they turn golden brown. Let cool before serving.

Recipe courtesy: Hip 2 Save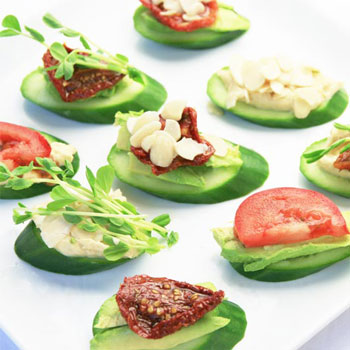 Ok, so crackers aren't your friend. Luckily, you can replace them with cucumbers for the same effect! Just don't forget to add on a couple slices of cheese and pepperoni and you're back in "cracker" heaven.

Servings: 8

Calories: 50-100 (Varied depending on preferences)
Net carbs: 1.5g+ (Varied depending on preferences)

Ingredients:

8 large cucumber slices
Sprouts
Sun-dried tomatoes
Tomato
Hummus
Stuffed green olives
Almonds, flaked
Cheddar cheese

Directions:

Choose any variation of the toppings above and stack them on top of a cucumber slice.

Recipe Courtesy: Diabetes Meal Plans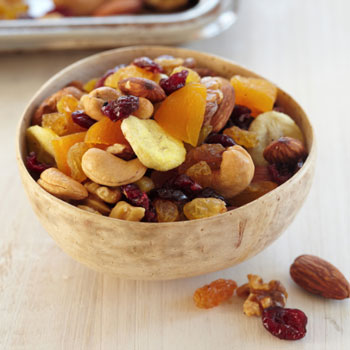 For that whole sweet-and-salty thing, this is about as perfect as you can get. It combines fruit (sweet) with the lightly-salted flavor (and protein) of nuts for that perfect take-me-to-dinner combination.

Servings: 7 servings (1 ¾ cups)

Calories: 121
Net carbs: 7

Ingredients:
1/4 cup raw almonds
1/4 cup raw cashews
1/4 cup raw walnut halves
Sea salt or kosher salt
1/4 cup golden raisins
1/4 cup dried apricots
1/4 cup banana chips

Directions:

Preheat the oven to 350°.
Toss the nuts with a pinch of salt and spread on a baking sheet.
Toast for 10 minutes until golden, stirring halfway through.
Let the nuts cool completely.
Mix the nuts with the dried fruits.

Recipe courtesy: Food and Wine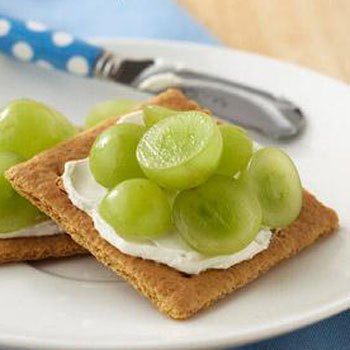 Bet you never thought of combining grapes with graham crackers. But guess what? It actually works together!

Servings: 1 graham

Calories: 100
Net carbs: 12.5g

Ingredients:

1 graham cracker
5-8 grapes, halved
1 tablespoon light cream cheese

Directions:

Spread 1 tablespoon light cream cheese on 2 graham cracker squares and top with 1/4 cup halved grapes.

Recipe Courtesy: Diabetic Living Online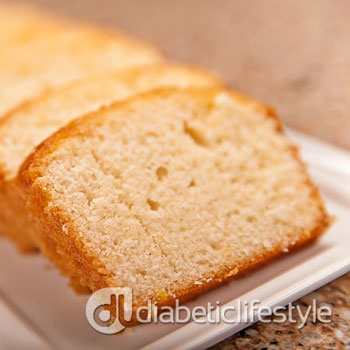 One of the top-rated diabetic recipes online, this is easy to make and you can bring it along all week long for a yummy snack in between meals.

Servings: 10

Calories: 157 (per 1/10 of loaf)
Net carbs: 15g

Ingredients:

1 cup Splenda
½ cup Baking Butter, softened
½ cup large egg whites, lightly beaten
1 ½ cups all-purpose flour
1 teaspoon baking powder
½ teaspoon salt
½ cup skim milk
1 ½ teaspoons grated lemon peel
1/3 cup Granulated Splenda (for the drizzle)
4 ½ tablespoons fresh lemon juice (for the drizzle)

Directions:

Preheat oven to 350°F. Spray a bread pan with cooking spray.
In a large bowl, mix Splenda, margarine and egg whites until smooth.

Add remaining muffin ingredients and mix until flour is incorporated into batter.

Pour batter into the prepared pan.

Bake for 45 to 50 minutes, until a toothpick inserted in center comes out clean.

Leaving loaf in pan, use a long slender skewer to poke numerous holes all the way to bottom of loaf. (This is so that the drizzle you pour over can soak through the whole loaf.)

To make the drizzle, combine Splenda and lemon juice in a small pan. Cook over medium heat, stirring constantly until Splenda is dissolved. Remove from heat.

Slowly drizzle over top of loaf so that glaze soaks into bread.

Let bread cool in pan on rack for 15 minutes, then turn out onto rack to cool completely. (A good idea: put aluminum foil or parchment paper under the rack to limit the mess/clean-up, should the drizzle drizzle out of the loaf too much while the bread is cooling.)

Recipe Courtesy: Diabetic Lifestyle
------------------------------------------------------------------------------------
Author: Caitlin H
Diet-to-Go Community Manager

Caitlin is the Diet-to-Go community manager and an avid runner. She is passionate about engaging with others online and maintaining a healthy, active lifestyle. She believes moderation is key, and people will have the most weight loss success if they engage in common-sense healthy eating and fitness.