5 Fall Fruits That Star in some Tasty Treats
Oct 12, 2020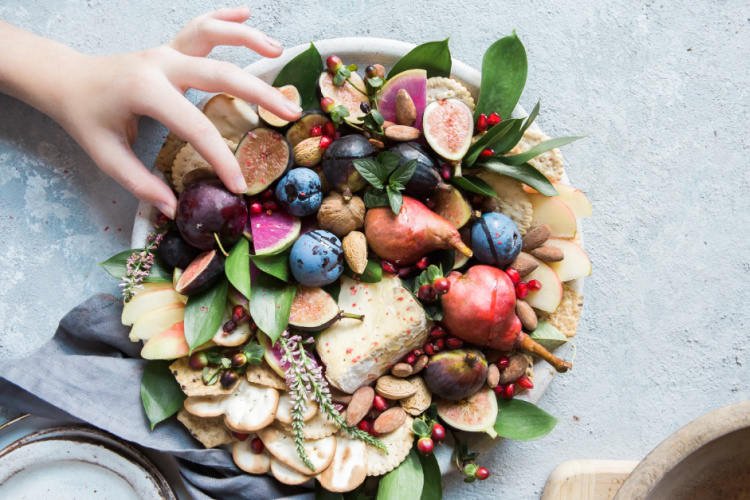 Ok, so the air is a bit cooler and the carefree summer days are behind us.

Believe it or not, that's actually good news when it comes to the freshest fruits available to make some very tasty fall-themed desserts. Some of the more popular, easier-to-find fruits in fall are pear, apple, fig, pomegranate and cranberries.

With that in mind, we rounded up our 5 favorite healthy fall-themed desserts using each of those popular (and actually very tasty) fruits!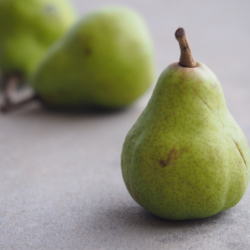 1) Pears

Pears are pretty darn delicious all on their own, but pop them in the oven, bake them and sprinkle on some cinnamon, and it really takes things to a whole new level.

How to Make:

Preheat the oven to 350°. Then, simply cut the pears in half, scoop out the seeds, drizzle on some maple syrup and add a bit of cinnamon. Pop the pears in the oven and bake until they're soft and tender (baking times will vary depending on the sizes of the pear). You can also top them with a few walnuts to add a little crunch.

Calories: ~100/pear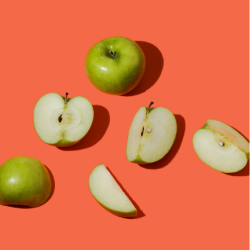 2) Granny Smith Apples

All you need is 3 simple ingredients to whip up this tasty little dish: water, cinnamon and Granny Smith apples. Be sure to choose apples that are ripe and firm for the best results! You can also use them as a topping for things like vanilla yogurt or low-calorie vanilla ice cream.

How to Make:

Heat a skillet on medium-low heat and add about ½ cup water. Take about six Granny Smith apples that have been peeled and cubed and cook them in the water with 2 teaspoons of cinnamon until they are soft and tender, adding more water as necessary. Top with some chopped walnuts or pecans. This will yield you about 4 servings.

Calories: ~160/serving (includes nuts).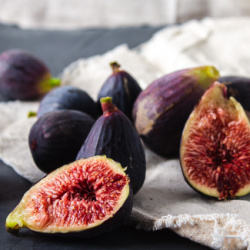 3) Figs

Making oven roasted figs is super simple. Quarter or slice them, add a little cinnamon, rosemary, and honey, and then pop them in the over for 40 minutes. They work well for a healthy snack... or make them into a dessert!

How to Make:

Preheat the oven to 375° and line a baking dish with parchment page. Slice 5 figs however you wish, sprinkle with cinnamon and rosemary (and a pinch of brown sugar if you like the added sweetness) and bake for 40 minutes. Cool for 10-15 minutes and then drizzle honey. Delicious as is... or add a little ice cream for a sweet fall treat!

Calories: ~68/fig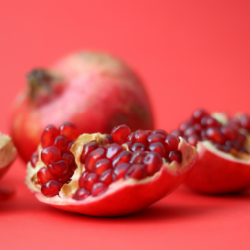 4) Pomegranate

Pomegranate seeds — often referred to as jewels — add a vibrant pop of color and bright, citrusy flavor to your diet. They can also be juiced and combined with lime juice and sugar to make a very tasty molasses topping that goes great on other fruits or low-fat yogurt or ice cream.

How to Make:

Juice 5-6 pomegranates to get about 1 ½ cup pomegranate juice. Combine it and 3 tablespoons sugar in a small saucepan, bring to a boil and boil until the sugar is dissolved. Reduce heat to medium and simmer for about 30 minutes, until you have ½ cup left. Once it's cool, stir in 1 tablespoon lime juice.

Calories: ~60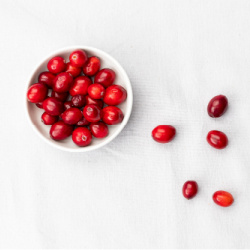 5) Cranberries

Ah the cranberry, a true staple of all things fall. Fresh cranberry sauce is the bees knees. (There is, after all, a reason it makes its way onto most family's Thanksgiving tables). But what if you could give it an added bump of flavor that will really make for something special this year? Turns out, all it takes is just a bit of orange juice and zest.

How to Make:

Start by zesting one large orange to get about 2 teaspoons of the zest. Then, juice it and one other orange to get about ½ cup fresh orange juice. Bring the orange juice, ½ cup water and 1 cup sugar to a boil over medium-heat in a small saucepan. Add 1 12-ounce bag fresh cranberries, your orange zest and a bit of salt and simmer for about 12 minutes until the cranberries burst. Refrigerate the sauce until cold and ready to serve.

Calories: ~125/⅓ cup


Do you have a favorite fall fruit recipe? Share in the comments below!



------------------------------------------------------------------------------------
Author: Caitlin H
Diet-to-Go Community Manager

Caitlin is the Diet-to-Go community manager and an avid runner. She is passionate about engaging with others online and maintaining a healthy, active lifestyle. She believes moderation is key, and people will have the most weight loss success if they engage in common-sense healthy eating and fitness.