4 Steps to Successfully Lose Weight With Your Partner
Sep 21, 2020


We lean on our partners for so much — managing the household, raising children, supporting each other during difficult times, even simple things like talking about our day. It's a crucial pillar to a healthy relationship, and the happiest people have that with their lifelong partner.

It's also beneficial when it comes to weight loss.

In fact, a new study from Amsterdam University of Applied Sciences found that spouses who embark on a weight loss journey together shed more weight than when one of them does it alone. "Our study shows that when spouses join the effort to change habits, patients have a better chance of becoming healthier -- particularly when it comes to losing weight," said study author Ms. Lotte Verweij, a registered nurse and PhD student in a recent article in Science Daily that highlighted the study.

Researchers assigned 824 heart attack patients to two different groups: usual care groups and usual care groups combined with lifestyle program support. Of the 411 patients assigned to the care group that included lifestyle programs, those who had partners participate were more than twice as likely to improve in at least one of three areas: weight loss, exercise and quitting smoking. The success ratio was most notable among those who wanted to lose weight. In short, having a partner join in weight loss goals improved their chance of success.

Verweij, the study author, pointed to the fact that couples usually have similar lifestyles, which likely plays a big role in why they were able to shed weight so well together.

Ready to do it together? Set yourself up for success with the following 4 steps:
1) Sit down and create a plan together.
Set aside some time to talk about your individual goals and how you can accomplish them individually, and also together. Write out your plans and cross reference to look for ways you both can help each other. Be open in your communication and expectations, and be sure to support your partner while simultaneously pushing them outside their comfort zone. Avoid coercion and be okay with the fact that you both may have different ways of getting there.

2) Focus on your progress (not your partner's).
While it's important to encourage your partner, the only person you can control is YOU. Focus solely on meeting your own goals, and don't fall into the trap of making your partner feel bad if they're not moving at the same pace. In fact, you'll encourage them more by accomplishing your own goals because your happiness in success will inherently inspire them to meet their own.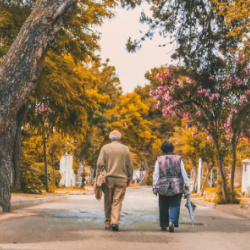 3) Try to find a physical activity you both enjoy.
Whether it's going on daily walks, hiking, jogging or hitting the gym (even if you both do your own thing there), carve out time in your day to do those things together. It's not only a great way to find motivation, but it can also improve bonding and intimacy when you embark on a fitness program together.

4) Commit to a healthy nutrition program.
There are very likely going to be things you like to eat that maybe your partner does not, or vice versa. Try to find a healthy food program that meets both your needs. Meal prepping for the week ahead where you switch off who chooses which healthy meal for the week ahead can be one great option for doing just that.

Not too keen on cooking (or maybe you just don't have the time)? Another option is a prepared meal service. Diet-to-Go offers fully-prepared, delicious, chef-crafted meals delivered right to your door or available to pick up fresh at many local fitness centers. The meals are balanced for nutrition and calories, and weight loss plans are crafted for you as an individual based on your own goals.* Plus, you can substitute out meals based on what you like and don't like through the easy-to-use online customer portal, myDiettogo. It's literally the best of both worlds!

Have you ever lost weight with a partner? What was one way you made it work? Share in the comments below!