20 Health & Wellness Stocking Stuffers That Support Weight Loss Success
Dec 7, 2020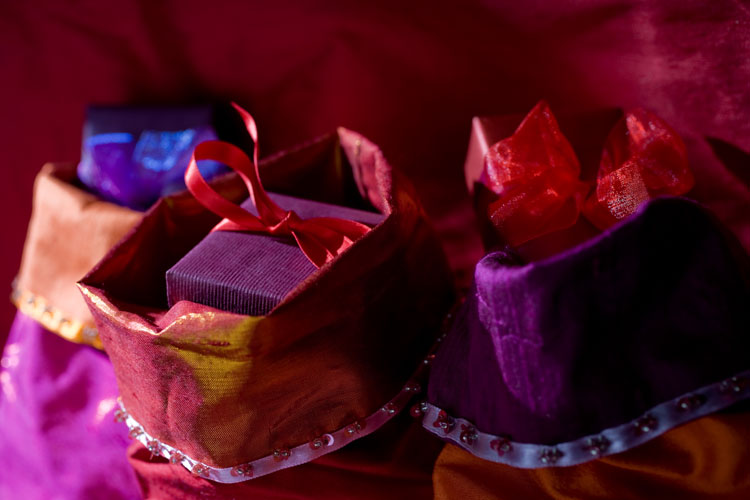 Sure, the holidays are super stressful. But they're also that one time of year that you get an excuse to show your loved ones how much you care.

And if you know someone who is trying to lose weight or get healthy, you can really go above and beyond this year. Show them your support by giving them something that will help them along in their journey.

We found 20 awesome gifts related to health and wellness that you can stuff into stockings, pop into a tiny gift bag, (or even put on your own list) this holiday season.

1. Fitness Tracker — Varied
Fitness trackers are great for two main reasons. Number one, they actually do exactly what their makers say they do: track the movements you make and things like heart rate and pulse, so you can get an idea of your activity.

Number two, and most important, it adds an element of extreme motivation to your day-to-day life — you inherently want to do better than you did the day before.And there's a ton of options to choose from: Fitbit, Garmin, Jawbone, Nike, Adidas, Sony and many more.

2. Digital Jump Rope — $28
When you're on-the-go or need to get in a quick fitness routine, having something on-hand that can help you along is a big bonus. Enter the ECVision Digital Outdoor-Indoor Wireless Cordless Diet Jump Rope, a pack-along piece of exercise equipment with a digital screen that shows you how many calories you're burning, your heart rate, the number of skips you've made and the time. It's perfect for people who travel or are always on a time-crunch. And who doesn't love to feel like a kid again?
3. Wireless Headphones that Double as Earmuffs — $70
Walking, running, cycling — all amazing activities for fitness, all things that are often done outdoors. And when it's cold out, keeping your ears warm is critical, as is listening to motivational music or a podcast. This baby gives you both in one — the headphone factor, plus that ever-so-needed warmth.


Like this stocking stuffer? Get it here
4. Smart Gloves — $30-$35
Speaking of staying warm during outdoor activities, your hands are just as important as your ears. And where regular gloves fail in allowing you to use your mobile device or flick away sweat, these gloves win. They're breathable, touch-screen ready, have reflective strips and a micro-suede thumb (for wiping your face or nose).

5. Fast-Dry Socks — $15-$30
Don't underestimate the importance of high-quality socks for fitness. They need to be lightweight and comfy, and if they're able to dry quickly, all the better. And these fast-drying socks from Darn Tough are about as durable and perfect as they get.


6. Warmer Kits — $8
Maximize the whole "warmth" thing even further with Little Hotties, warmers for your hands, feet, body, even your toes. These are great for chilly, early morning hikes, walks, runs and bike rides and they fit in the nooks and crannies of stockings to make them extra stuffed.

7. Cooling Towels — 13
When you've been sweating and your skin is hot, get quick relief with these handy little towels. All you have to do is dip them in warm water, give them a few minutes to activate and then press them on your skin for a quick cooling sensation.

8. Dry Shampoo — $22
The simple truth: There's not always time for a post-workout shower. And when that's the case, this gym-bag item is an essential.

9. Germ-Fighting Fitness Towel — $25
Gyms are great and all, but they're also a cesspool for germs. (Honestly, who knows who was using the stationary bike before you?) Fight the yuckiness and wipe away the sweat with this germ-fighting fitness towel. One side of the towel says "Gym" and the other says "Skin" so that you know which side to set on the equipment and which to use on your face.

10. "Oh My Quad" Tank Top — $20
Good for a laugh (and to wear at the gym), the "Oh My Quad" tank top is a cute little stocking stuffer that shows that weight-lifting is definitely not just for dudes.

11. The Grid Foam Roller — $25
Achy, sore muscles are no bueno. This miniature foam roller pops right into a purse or gym bag (and a stocking, obviously) for quick relief. Plus, it comes in three fun colors — orange, black and pink.


12. Stronger Than Yesterday Fitness Bracelet — $15
What woman doesn't love jewelry? Add in some trendy style and motivation, and you've got one heck of a gift. That's what the Stronger Than Yesterday Fitness Bracelet gives you. It's a handmade item with inspirational words engraved onto it to remind that person that for every day they fight, they are stronger for it.

13. Just Dance 2021 — $40
The best exercise comes at times when you're not even thinking about it. That's exactly what you'll get with the Just Dance 2021 video game for pretty much any game console. It's hours of calorie-burning fun you don't even have to think about.


14. Health Magazine Subscription — $11
Health Magazine is a great resource for all things health, wellness and weight loss. The writers and editors at Health Magazine cover all their bases, too. Their articles keep you up-to-date on the latest studies, tips, diets and more you need to stay on-track.


15. Aromatherapy Gift Set — $20
Don't discount the power positive smells can have on you. Pleasant scents are known to relieve stress and boost your mood, making this gift set perfect for the whole mental health thing. You can choose from several different scents, too — lavender, sweet orange, peppermint, eucalyptus, lemongrass and more.

16. SpaWish Gift Certificate — Varied
Stress is a big thing during the holidays. And what better way to relieve some of that than with a day at the spa?

The SpaWish Gift Card can be used at thousands of spas and salons all over the country on pretty much anything you want — massages, facials, mud-baths, you name it.


17. Adult Coloring Books — $4+
No, not kids' coloring books. Adult coloring books. Yes they're a thing. It's called art therapy, and it's a trend that has gained a lot of steam in the past few years. The idea is that coloring relieves stress and anxiety and laugh at the adult-themed color designs that are all your own.

18. Cell Phone Armband — Varied
Who wants to carry around their phone at the gym or on a walk? Not necessary with the armband, a tried-and-true fitness gift that allows you to strap your mobile device right to your arm while you exercise. (We hear the best ones are made by TuneBand).

19. Collapsible Water Bottle — $20
When you're exercising, convenience is key. This collapsible water bottle can fit easily into any bag. It's easy to fill and even easier to store.


20. Girls Don't Sweat, They Glisten Personalized Towel — $17
Celebrate each workout with a fun, personalized towel. This thick, soft towel is practical but fashionable and can be customized in any way you want.

------------------------------------------------------------------------------------
Author: Caitlin H
Diet-to-Go Community Manager

Caitlin is the Diet-to-Go community manager and an avid runner. She is passionate about engaging with others online and maintaining a healthy, active lifestyle. She believes moderation is key, and people will have the most weight loss success if they engage in common-sense healthy eating and fitness.