10 Fresh, Scrumptious Mediterranean Diet Recipes for Beginners
Aug 3, 2020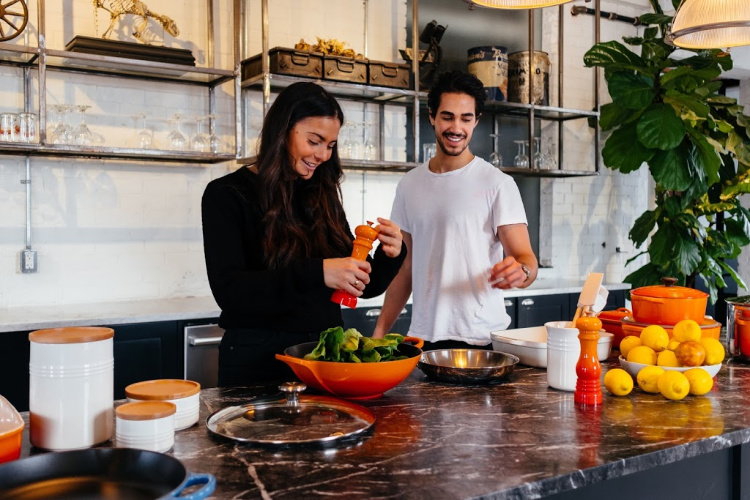 The Mediterranean Diet uses wholesome, fresh ingredients like vegetables, whole-grain pasta and bread and healthy fats, as well as herbs and spices to create satisfying, delicious meals that can help lead to a longer, healthier life.

It's a world away from the refined sugars, trans-fat and carbs that comprise many Americans' diet.

That can make it tricky to learn how to cook Mediterranean Diet meals when you're first getting started.

That's why we scoured the internet and rounded up 10 fresh, scrumptious Mediterranean Diet recipes that are perfect for beginners.

Once you get started, you won't look back.

1) Greek Orzo Salad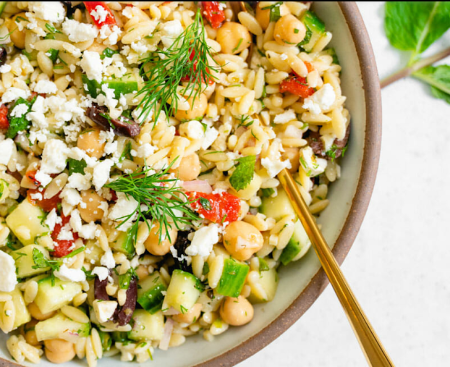 One of the most important parts of going Mediterranean is to focus on fresh herbs and bright flavors. This salad has it in spades with zesty ingredients and a fresh taste that will leave you feeling grateful there's leftovers to take for lunch the next day.


Ingredients

8 ounces orzo pasta (1 1/4 cup dry)
1 cup canned chickpeas, drained and rinsed
½ lemon, juice and zest (about 2 tablespoons juice)
¼ cup minced shallot or red onion
½ English cucumber (2 cups diced, or substitute a peeled standard cucumber)
2 roasted red peppers from a jar or 1/2 fresh red bell pepper (1/2 cup diced)
⅓ cup chopped dill, plus more for garnish
⅓ cup chopped mint
2 tablespoons white wine vinegar
3 tablespoons extra-virgin olive oil
½ teaspoon Dijon mustard
1 teaspoon dried oregano
½ cup feta cheese crumbles
⅓ cup Kalamata olives, halved
Black pepper

Directions

Prepare the orzo according to the package instructions. Taste the orzo a few minutes before completion to ensure it's 'al dente' (chewy, but with a little firmness in the center). When it's done, drain it and then rinse it under cold water until it comes to room temperature.
Place the chickpeas in a bowl with the lemon zest, lemon juice, and 1/4 teaspoon kosher salt.
Mince the red onion, then place it in a bowl with water (this helps to remove the sharp onion taste).
Dice the cucumber. Dice the roasted red pepper. Chop the herbs.
Stir together the orzo, chickpeas and bowl of lemon juice, red onion, cucumber, red pepper, dill, mint, white wine vinegar, olive oil, Dijon mustard, oregano, feta crumbles, black olives, and several grinds of black pepper.
Taste and season with more kosher salt.

Recipe courtesy A Couple Cooks

Broiled Salmon with Herb Mustard Glaze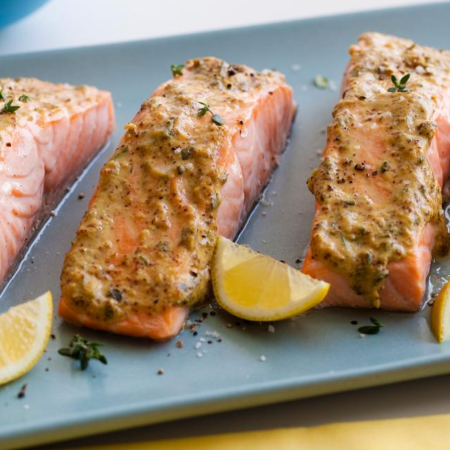 A crowd favorite, this broiled salmon with glaze is beyond scrumptious. It has a light flavor that satisfies every last taste bud and uses fresh herbs to take that yumminess to the next level.


Ingredients

2 garlic cloves
¾ teaspoon finely chopped fresh rosemary leaves
¾ teaspoon finely chopped fresh thyme leaves
1 tablespoon dry white wine
1 tablespoon extra-virgin olive oil
2 tablespoons Dijon mustard
2 tablespoons whole-grain mustard
Nonstick olive oil cooking spray
Six 6- to 8-ounce salmon fillets
Salt and freshly ground black pepper
6 lemon wedges

Directions

In a mini food processor, combine garlic, rosemary, thyme, wine, oil, Dijon mustard, and 1 tablespoon of whole-grain mustard. Grind the mustard sauce until combined, about 30 seconds. Transfer to a small bowl. Add remaining 1 tablespoon of whole-grain mustard to the sauce and stir to combine. Set aside mustard sauce.
Preheat the broiler. Line a heavy rimmed baking sheet with foil. Spray the foil with nonstick spray. Arrange the salmon fillets on the baking sheet and sprinkle them with salt and pepper. Broil for 2 minutes. Spoon the mustard sauce over the fillets. Continue broiling until the fillets are just cooked through and golden brown, about 5 minutes longer.
Transfer the fillets to plates and serve with lemon wedges.

Recipe courtesy Food Network

3) Mediterranean Chicken and Bulgur Skillet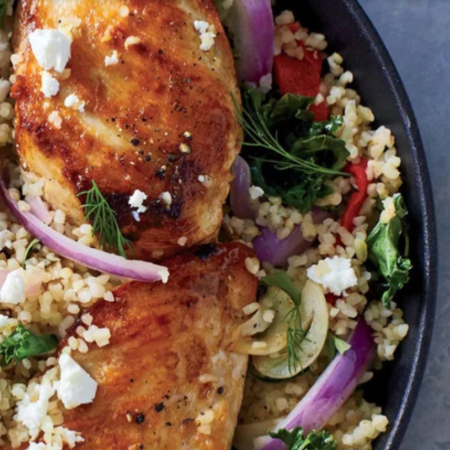 Who says you can't make amazing one-pot Mediterranean diet meals? This tasty concoction leverages feta, bulgur and chicken for a wealth of flavors that you may not have even known existed.


Ingredients

4 (6-oz.) skinless, boneless chicken breasts
¾ teaspoon kosher salt, divided
½ teaspoon freshly ground black pepper, divided
1 tablespoon olive oil, divided
1 cup thinly sliced red onion
1 tablespoon thinly sliced garlic
½ cup uncooked bulgur
2 teaspoons chopped fresh or 1/2 tsp. dried oregano
4 cups chopped fresh kale (about 2 1/2 oz.)
½ cup thinly sliced bottled roasted red bell peppers
1 cup unsalted chicken stock
2 ounces feta cheese, crumbled (about 1/2 cup)
1 tablespoon coarsely chopped fresh dill

Directions

Preheat oven to 400°F.
Sprinkle chicken with 1/2 teaspoon salt and 1/4 teaspoon black pepper. Heat 1 1/2 teaspoons oil in a 10-inch cast-iron or other ovenproof skillet over medium-high.
Add chicken to pan; cook until browned on both sides, about 3 minutes per side. Transfer chicken to a plate.
Add remaining oil to pan. Add onion and garlic; cook, stirring occasionally, until lightly browned, about 5 minutes. Add bulgur and oregano; cook, stirring often, until fragrant and toasted, about 2 minutes. Add kale and bell peppers; cook, stirring constantly, until kale begins to wilt, about 2 minutes. Add stock and remaining 1/4 teaspoon each salt and black pepper; bring to a boil.
Remove from heat.
Nestle chicken into bulgur mixture; place skillet in oven. Bake at 400°F until a meat thermometer inserted in thickest portion of chicken registers 165°F, 12 to 15 minutes.
Remove from oven.
Sprinkle with feta. Let stand 5 minutes.
Sprinkle with dill, and serve immediately.

Recipe courtesy Cooking Light

4) Greek Turkey Meatball Gyro with Tzatziki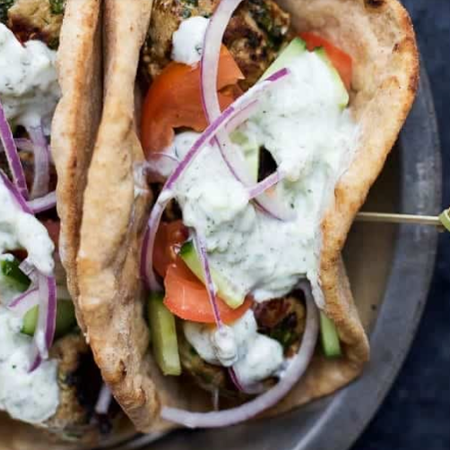 A good gyro is the bee's knees — but who knew it's actually a rather simple and tasty meal you can make at home? These tasty meatball gyros are doused in delicious Tzatziki sauce that will have you wondering what took you so long to discover them?


Ingredients

Turkey Meatball:
1 lb. ground turkey
¼ cup finely diced red onion
2 garlic cloves, minced
1 teaspoon oregano
1 cup chopped fresh spinach
salt & pepper to season
2 tablespoons olive oil

Tzatziki Sauce:
½ cup plain greek yogurt
¼ cup grated cucumber
2 tablespoons lemon juice
½ teaspoon dry dill
½ teaspoon garlic powder
salt to taste
½ cup thinly sliced red onion
1 cup diced tomato
1 cup diced cucumber
4 whole wheat flatbreads

Directions

To a large bowl add, ground turkey, diced red onion, minced garlic, oregano, fresh spinach, salt, and pepper. Using your hands mix all the ingredients together until meat forms a ball and sticks together.
Then using your hands, form meat mixture into 1″ balls. (you should be able to get about 12 meatballs).
Heat a large skillet to medium high heat. Add olive oil to the pan, and then add the meatballs. Cook each side for 3-4 minutes until they are browned on all sides. Remove from the pan and let rest.
In the meantime, to a small bowl add greek yogurt, grated cucumber, lemon juice, dill, garlic powder, and salt to taste. Mix together until everything is combined.
Assemble the gyros: to a flatbread (I like to warm mine up so they are more pliable) add 3 meatballs, sliced red onion, tomato, and cucumber. Then top with Tzatziki sauce.

Recipe courtesy Joyful Healthy Eats

5) Sweet Potato Noodles with Almond Sauce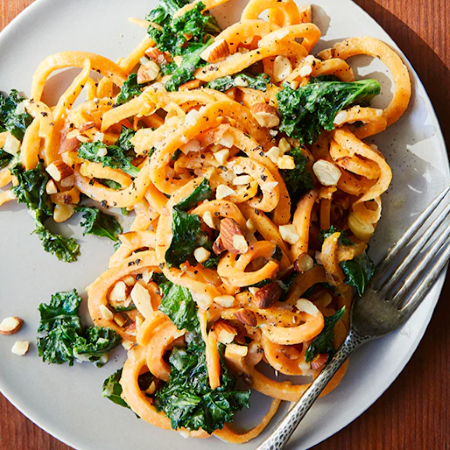 Ingredients

Almond Sauce:
2 tablespoons extra-virgin olive oil
3 shallots, minced
2 garlic cloves, minced
3 tablespoons all-purpose flour
2 cups plain, unsweetened almond milk
2 tablespoons Dijon mustard
Salt and freshly ground black pepper

Sweet Potato Noodles:
2 tablespoons extra-virgin olive oil
3 sweet potatoes, cut into noodles (made using a spiralizer)
4 cups roughly torn kale
Salt and freshly ground black pepper
½ cup toasted, salted almonds, roughly chopped

Directions

Almond Sauce:
In a medium pot, heat the olive oil over medium heat. Add the shallots and garlic, and sauté until fragrant, about 1 minute.
Stir in the flour and cook, stirring constantly, for 1 minute. Add the almond milk, whisking constantly to prevent lumps from forming in the sauce. Whisk over medium heat until the mixture comes to a simmer. Simmer for 4 to 5 minutes.
Whisk in the Dijon mustard and season the sauce with salt and pepper. Cover and continue to warm the sauce over low heat while you prepare the noodles.

Sweet Potato Noodles:
In a large sauté pan, heat the olive oil over medium heat. Add the sweet potato noodles and sauté, tossing occasionally, until they are nearly tender, 5 to 6 minutes.
Add the kale and toss until it wilts. Add the sauce and toss until the noodles are well coated.
Just before serving, add the almonds and toss to combine. Season with salt and pepper. Serve immediately.

Recipe courtesy Pure Wow

6) Yogurt Tahini Mediterranean Carrot Salad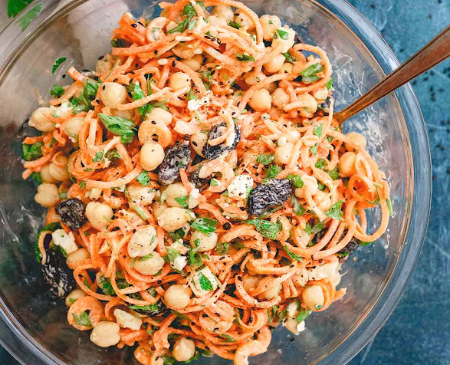 A creamy carrot salad is just what the doctor ordered after a long day at work. This delicious meal uses tahini and Greek yogurt for a smooth texture that combines with just the right balance of herbs for a tasty meal you'll love.


Ingredients

For the dressing
2 tablespoons tahini
2 tablespoons water + more as needed to thin out
½ cup plain Greek yogurt
1 tablespoon lime juice (about 1/2 a lime)
½ tablespoon honey

For the salad
2 large carrots
15 ounce can chickpeas, drained and rinsed
½ cup royal raisins
½ cup chopped parsley
⅓ cup crumbled feta
salt and pepper to taste
black sesame seeds for garnish

Directions

For the dressing:
Place tahini and 2 tablespoons water in a food processor. Process until whipped and smooth.
Add the yogurt, lime juice and honey and process again until smooth.
Add additional water (1-2 more tablespoons) as necessary for desired consistency. *I used about 1 tablespoon.

For the salad:
Using a spiralizer on blade D or a julienne peeler make noodles from the carrots and trim into manageable size for eating.
Place the carrot noodles in a large bowl.
Add the chickpeas, raisins, parsley and feta.
Add the dressing and toss until well combined.
Season with salt and pepper to taste. Garnish with black sesame seeds.
Serve immediately or keep chilled until serving.

Recipe courtesy Running to the Kitchen

7) Mediterranean Turkey Burger


Thought burgers were out of the realm of okay? Think again. A Mediterranean Turkey Burger combines creamy feta cheese, onions and herbs in a turkey patty that's an easy go-to your entire family will love.


Ingredients

Turkey Patties
2 lbs Ground turkey
2 tsp Oregano
4 Garlic cloves, minced
1 Small onion, grated
¼ cup Flat leaf parsley, chopped
1 tsp Cumin
1 tsp Pepper
2 tsp Salt
2 tbsp Olive oil

Tzatziki Sauce
1 cup Greek yogurt
½ English cucumber, grated
1 tbsp Dried dill or 2 tbsp fresh dill
1-2 Garlic cloves, minced
½ tsp Salt
¼ tsp Pepper

Burger
6 Romaine lettuce leaves
2 Tomatoes, sliced
4 oz Feta, crumbled
6 Hamburger buns, toasted
1 cup Tzatziki sauce

Directions

In a small bowl, combine the ingredients for the tzatziki sauce. Cover and place in the fridge for a 1 hour to allow flavors to meld (optional).
To make the burger patties, mix the ground turkey, oregano, garlic, onion, parsley, cumin, pepper and salt in a bowl with your hands until fully combined. Divide the mixture into 6 evenly sized burger patties, slightly larger than the hamburger buns.
Heat the oil in a large cast iron skillet set over medium heat. Season the outside of the patties with a little sprinkle of salt. Cook the patty for 4-5 minutes on each side. Use a food thermometer to be sure they have reached a safe minimum internal temperature of 165 °F.
To assemble the burgers, layer them with tzatziki sauce, the patty, tomato, lettuce more tzatziki sauce and feta. Enjoy.

Recipe courtesy The Modern Proper

8) Tuscan Tuna and White Bean Salad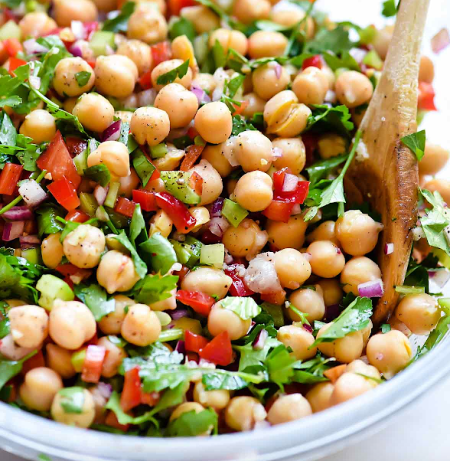 Simple yet refreshing, this Tuscan salad uses boiled white beans, a staple of the Mediterranean Diet, tuna and olive oil combined with lemon juice for a light, fruity taste.


Ingredients

4 cups arugula spinach, or other favorite lettuce
1 15 ounce can cannellini or Great Northern beans rinsed and drained
1 5 ounce can white albacore tuna packed in water drained
½ cup cherry tomatoes halved
¼ cup sliced olives green, Kalamata, or your favorite variety
Thinly sliced red onion
2 tablespoons fruity extra virgin olive oil
½ lemon
¼ cup crumbled feta cheese
Kosher salt and freshly ground black pepper

Directions

In a large bowl or two smaller bowls, combine the arugula, white beans, tuna, tomatoes, olives and and red onion. Drizzle with the olive oil and the juice from the lemon.
Toss to combine.
Top with crumbled feta cheese and season to taste with kosher salt and black pepper.

Recipe courtesy Foodie Crush

9) Slow-Cooker Mediterranean Stew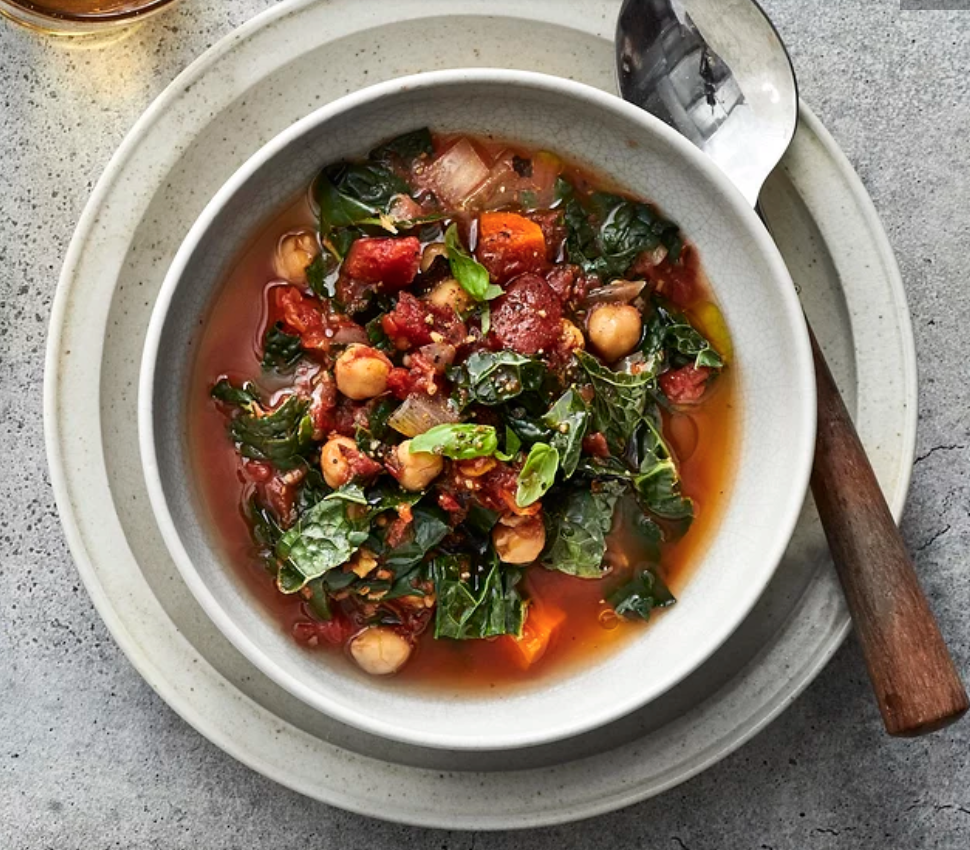 For those nights when you need a hearty meal, this Slow-Cooker Mediterranean Stew is your best bet. It's loaded with vegetables, chickpeas and spices and pairs wonderfully with some whole-grain pita bread for a warm meal perfect for a chilly, low-key night.


Ingredients

2 (14 ounce) cans no-salt-added fire-roasted diced tomatoes
3 cups low-sodium vegetable broth
1 cup coarsely chopped onion
¾ cup chopped carrot
4 cloves garlic, minced
1 teaspoon dried oregano
¾ teaspoon salt
½ teaspoon crushed red pepper
¼ teaspoon ground pepper
1 (15 ounce) can no-salt-added chickpeas, rinsed, divided
1 bunch lacinato kale, stemmed and chopped (about 8 cups)
1 tablespoon lemon juice
3 tablespoons extra-virgin olive oil
Fresh basil leaves, torn if large
6 lemon wedges (optional)

Directions

Combine tomatoes, broth, onion, carrot, garlic, oregano, salt, crushed red pepper and pepper in a 4-quart slow cooker. Cover and cook on Low for 6 hours.
Measure 1/4 cup of the cooking liquid from the slow cooker into a small bowl. Add 2 tablespoons chickpeas; mash with a fork until smooth.
Add the mashed chickpeas, kale, lemon juice and remaining whole chickpeas to the mixture in the slow cooker. Stir to combine. Cover and cook on Low until the kale is tender, about 30 minutes.
Ladle the stew evenly into 6 bowls; drizzle with oil. Garnish with basil. Serve with lemon wedges, if desired.

Recipe courtesy Eating Well

10) Creamy Greek Salad Pasta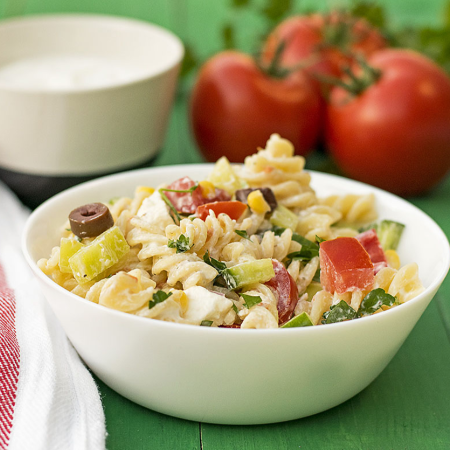 Pasta is typically a no-no on the Mediterranean Diet, but luckily, there are exceptions. Enter this Creamy Greek Salad Pasta recipe that uses Greek yogurt for an extra creamy taste packed with protein and the right balance of nutrients.


Ingredients

1 pound fusilli pasta, you can also use penne, rigatoni, farfalle or elbow macaroni pasta
2 large tomatoes, diced
2 small Persian cucumbers, diced (or about 1 cup chopped English cucumber).
½ red onion, finely chopped
½ red bell pepper, chopped
½ green bell pepper, chopped
½ cup sliced olives
7 oz (200 grams) feta cheese, cubed or crumbled
1 cup corn kernels (I buy them frozen and cook them in boiling water for 2 minutes)
1 cup strained Greek yogurt 2% fat (you can also use full fat)
½ cup parsley, chopped
1-2 teaspoons dried oregano
2-3 tablespoons e.v. olive oil
Salt and pepper to taste

Directions

Take care to chop all the vegetables about the same size.
Cook the pasta according to the directions on the package, drain well using a colander and rinse with cold water until no longer warm. Set aside to drain.
Transfer all the ingredients to a large bowl and mix gently with a spatula until everything is combined. Taste and adjust salt.
Serve immediately or refrigerate for 1 hour to chill.
Eat!

Recipe courtesy The Hungry Bites

Do you have a favorite Mediterranean Diet recipe? Share it in the comments below!

------------------------------------------------------------------------------------
Author: Caitlin H
Diet-to-Go Community Manager

Caitlin is the Diet-to-Go community manager and an avid runner. She is passionate about engaging with others online and maintaining a healthy, active lifestyle. She believes moderation is key, and people will have the most weight loss success if they engage in common-sense healthy eating and fitness.