20 Quick & Easy Keto-Friendly Summer Grill Recipes
Jul 6, 2020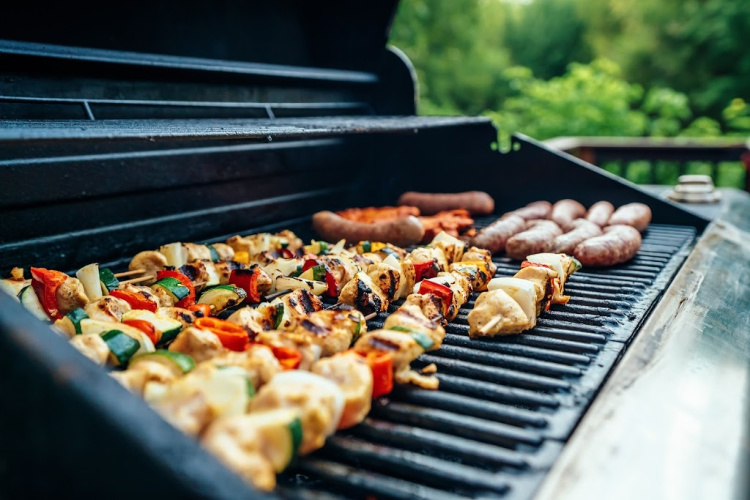 Summer arrives and your mind might head right to barbecue dinners. There is something that makes food cooked on the grill so much more delicious. When you're watching your weight, it can also be a stressful time, as you try to watch what you're eating but not miss out on those yummy foods that are always featured.

We've collected 20 keto-friendly recipes that can help you stick with your guidelines... while also making your mouth water!

1) BBQ Salmon with Avocado Salsa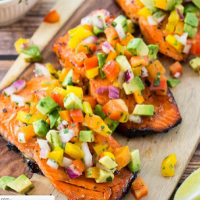 Servings: 4
Carbs: 14g

Perfect for a quick, healthy meal after getting home from work (or finishing up working from home), this tasty BBQ Salmon uses a simple brown sugar-salt-pepper seasoning mix and is topped with a tasty avocado salsa. Plus, it only takes 22 minutes to whip up. Win-win!

Get the recipe at The Girl on the Bloor.


2) Tomato Bun Sliders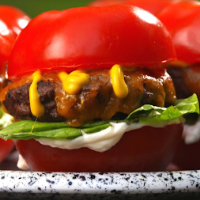 Servings: 6
Carbs: 5g

On a low-carb diet? Or maybe just a tomato fan? Then these tomato bun sliders are just the thing, leveraging a simple seasoning mix of Worcestershire sauce, pepper and salt, beef patties — and all the fixings. Be sure to use ripe tomatoes (or else the "bun" may get a little messy), and you'll have a quick meal that tastes like summer on a plate.

Get the recipe at Delish.

3) Pesto Shrimp Skewers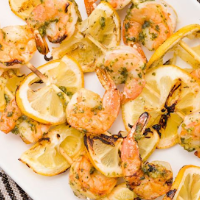 Servings: 8
Carbs: ~1g

Keep it classy (and extremely simple) by using three simple ingredients — shrimp, pesto and lemon — to create a yummy skewer. It can compliment another dish or live on its own for a simple weeknight dinner.

Get the recipe at Delish.


4) Grilled Artichoke with Lemon Garlic Aioli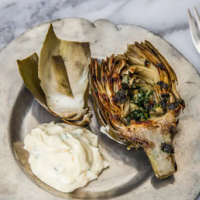 Servings: 4-6
Carbs: 20g

Sometimes the simplest of things can yield the best results — especially when they're in-season. Make a light meal of it with these flavorful grilled artichokes served alongside flank steak and with a glass of red wine. It's just the thing for a warm summer evening on your patio.

Get the recipe at Camille Styles.


5) Hibachi Steakhouse Meatballs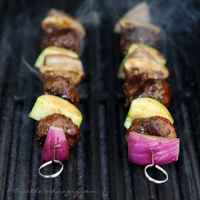 Servings: 6
Carbs: 3g

The flavors in these meatballs are an ode to that fun and unique Hibachi restaurant experience. The recipe uses keto-friendly ingredients like almond flour, soy sauce and a vegetable medley to create those sweet-and-salty flavors you remember and love.

Get the recipe at I Breathe, I'm Hungry.


6) Dry Rub Grilled Chicken with White Barbecue Sauce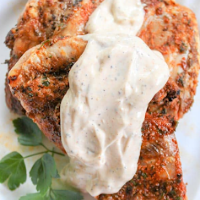 Servings: 8
Carbs: 3.1g

All it takes is a simple dry rub mixture and a couple hours of marinating time in the fridge, and you'll have an amazing piece of mouth-watering chicken to mow down for dinner. Add in the homemade white barbecue sauce, and you're taking things to a whole new level.

Get the recipe at Seeking Good Eats.


7) Tuscan-Style Grilled Ribeye Steak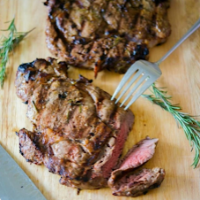 Servings: 4
Carbs: 3g

Tender, juicy and leveraging that Italian flare, these Tuscan-style grilled rib eye steaks are made with a scrumptious Italian-inspired seasoning mix that you're sure to love. They're just the thing for a late summer evening on the patio watching the sun go down.

Get the recipe at Carrie's Experimental Kitchen.


8) Grilled Buffalo Chicken Lettuce Wraps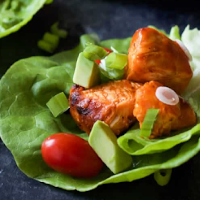 Servings: 15-20
Carbs: 2g
Want something a bit lighter on the waistline but still packed with that party flavor? Then you're going to want to get what you need to prepare these grilled chicken lettuce wraps. Making them on the grill just adds to the buffalo-soaked flavor that combines with tomatoes, avocado and creamy ranch.

Get the recipe at Joyful Healthful Eats.


9) Rosemary Mustard Grilled Chicken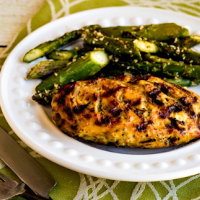 Servings: 8
Carbs: 3g

For a light, lemony tasting recipe that you can whip up on a warm, late-summer evening, try these rosemary mustard grilled chicken breasts. They're a quick, easy favorite and the leftovers make for a great salad topping later in the week.

Get the recipe at Kalyn's Kitchen.


10) Keto Barbecue Ribs


Servings: 4
Carbs: 6g

What's better for summer grilling than a good 'ole fashioned rib dish? This particular recipe gives the flavor of the barbecue sauce without all the carbs that come with it. It does take a bit longer to cook (about an hour and 20 minutes), but the smoky flavor at the end is worth it. Hello Sunday dinner!

Get the recipe at Diet Doctor.

11) Bacon Wrapped BBQ Shrimp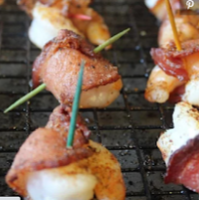 Servings: 3
Carbs: 0.3g

It's hard to go wrong with bacon and shrimp. Pop them on a skewer and grill them up for a mouth-watering, savory combination that is a great highlight to any neighborhood barbecue.

Get the recipe at All Recipes.



12) Grilled Tri-Tip with Onions and Peppers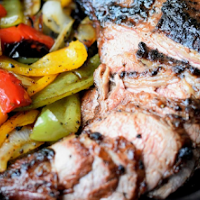 Servings: 6
Carbs: 15g

Marinade is your friend when it comes to this tasty recipe. Prepping it early and letting it soak for a bit is all that you need to do ahead of time to give this tasty cut of beef all the flavor it needs to take your tastebuds to a whole new level.

Get the recipe at Butter Your Biscuit.


13) Taco Lime Grilled Chicken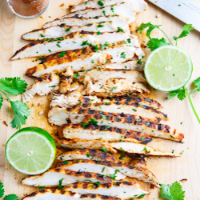 Servings: 4
Carbs: 3g

Give your chicken a pop of Mexican flavor with these taco lime grilled chicken breasts. You can enjoy them as-is or slice them up to top a salad — whatever you'd like. No matter how you enjoy them, you won't be disappointed.

Get the recipe at Closet Cooking.


14) BBQ Cheddar Burgers


Servings: 6
Carbs: 4g

All it takes is a simply five ingredients to create stuffed burger patties that have all the barbecue flavor you love without all the work to get it. Pop the prepared patties between two pieces of romaine lettuce and you'll have just the thing to satisfy your burger craving.

Get the recipe at My Productive Backyard.


15) Grilled Pork Tenderloin with Cherries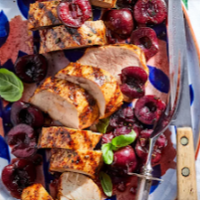 Servings: 3
Carbs: 15g

Pork tenderloin isn't something that comes to most people's minds when it comes to grilling recipes, but you'll be amazed about how cooking it this way brings out the natural juices in the meat. It'll take you on a tender, moist journey your tastebuds will never forget.

Get the recipe at Eating Well.


16) Mojito-Marinated Chicken Kebabs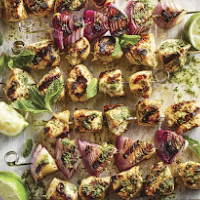 Servings: 4
Carbs: 9.8g

These mojito-marinated chicken kebabs are just the thing for a late summer evening and dinner on the patio. They're soaked in summer-rich flavor and go great with a mojito (a low-carb beverage) for a relaxing meal watching the sunset.

Get the recipe at Eating Well.


17) Kickin' Grilled Chicken Legs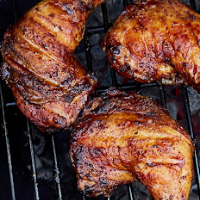 Servings: 4
Carbs: 1g

Delicious, caramelized, crispy skin is what makes these savory grilled chicken legs that leverage a tasty spice mixture and smoky flavor for a walk down grilling heaven. Pair the chicken legs with a nice vegetable medley for a full meal.

Get the recipe at Craving Tasty.


18) Fajita Stuffed Grilled Flank Steak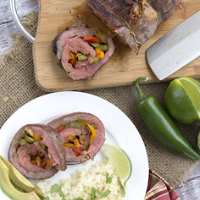 Servings: 6
Carbs: 4g

Grilled flank steak is already amazing, but stuff it with cheese, peppers and onions, and you'll be in seventh heaven. It's also fun to put together (get the kids involved!) and makes for a great Sunday dinner everyone in the family will enjoy.

Get the recipe at All Day I Dream About Food.


19) Grilled Cheesy Buffalo Chicken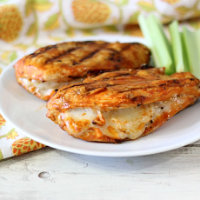 Servings: 4
Carbs: 0

Cheesy, spicy and cooked to perfection, if you're any sort of buffalo chicken fan, you'll absolutely love this particular concoction. It uses simple ingredients combined for an easy melt-in-your-mouth flavor that's also super easy to make after a long day at work.

Get the recipe at Peanut Butter & Peppers.


20) Strawberry Chili Grilled Chicken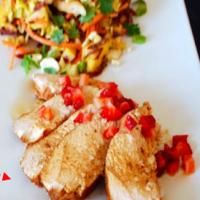 Servings: 4
Carbs: 8g

It's the season for strawberries and, believe it or not, those tart little treats also make for a great compliment to grilled chicken. Don't take our word for it. Try this Strawberry Chili Grilled Chicken recipe, which packs the perfect punch of sweet and heat, and see for yourself!

Get the recipe at Steph Gaudreau.



Have a favorite keto grilling recipe? Share in the comments below!
------------------------------------------------------------------------------------
Author: Caitlin H
Diet-to-Go Community Manager

Caitlin is the Diet-to-Go community manager and an avid runner. She is passionate about engaging with others online and maintaining a healthy, active lifestyle. She believes moderation is key, and people will have the most weight loss success if they engage in common-sense healthy eating and fitness.