12 Labor Day Side Dishes That Will Wow Your Tastebuds
Aug 31, 2020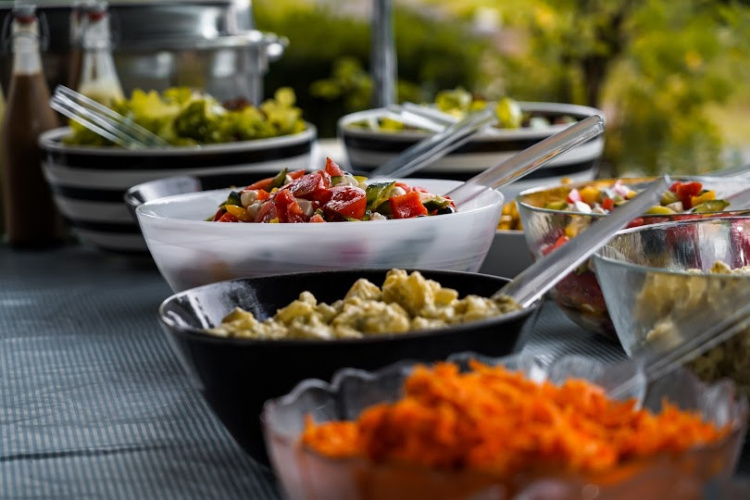 The end of summer is near, which can be a bit sad for those of us who really love the warm nights on the patio, the long golden hours and, of course, the summer style foods.

For this year's end-of-the-summer menu, whip up some tasty, light, refreshing side dishes that don't add as much to the daily calorie-count.

We rounded up 12 of our favorite healthy Labor Day side dishes that are sure to make your mouth water!

---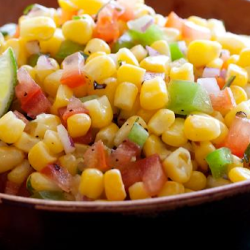 1) Summer Corn Salad

Servings: 4
Calories: 226

Fresh, colorful and delicious, this Summer Corn Salad is a surefire hit at this year's barbecue. It's wicked easy to make, and its bright look makes it sunshine on a plate, perfect to pair with those barbecue staples of burgers, brats or hot dogs.


Get the recipe at Food Network.



---
2) Snap Pea Radish Slaw

Servings: 6
Calories: 32

Did you know a typical serving of traditional coleslaw has nearly 300 calories in it? That's a big commitment for a side dish that's typically not very filling. Skip all that heavy salad dressing or gobs of mayonnaise and opt for something lighter and refreshing (and yes, very tasty) with this Snap Pea Radish Slaw.


Get the recipe at Making Thyme for Health.


---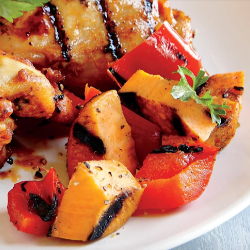 3) Grilled Sweet Potato and Bell Pepper Toss

Servings: 4
Calories: 172

Sweet potatoes and bell peppers aren't the typical combination, but they absolutely wow when you pop them on a grill and then toss them together with a bit of cumin, paprika, salt, pepper and olive oil.


Get the recipe at My Recipes.


---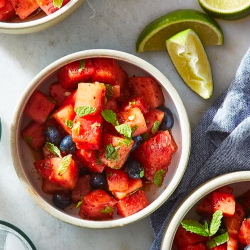 4) Mojito Blueberry & Watermelon Salad

Servings: 6
Calories: 68

With a zingy flavor and fresh fruit like blueberry and watermelon starring, this tasty salad is inspired by the classic cocktail. You can make it with or without rum, and with it's sweet, minty flavor, it has Labor Day barbecue written all over it.


Get the recipe at Eating Well.


---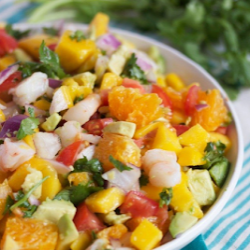 5) Tropical Shrimp Ceviche

Servings: 4
Calories: 185

This easy recipe doesn't require any cooking and has a light, citrusy flavor combined with raw seafood and hardly any effort. It's great for healthy eaters and is a bright addition to every end-of-summer party table.


Get the recipe at Lexi's Clean Kitchen.



---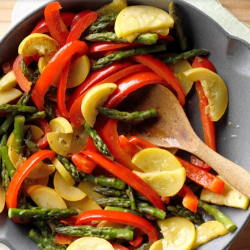 6) Asparagus, Squash & Red Pepper Saute

Servings: 4
Calories: 90

Asparagus, red peppers and squash may not be your first idea of something tasty to bring along to your next get-together, but saute it in a white wine sauce, and you'll suddenly find out why vegetable people are vegetable people.


Get the recipe at Taste of Home.



---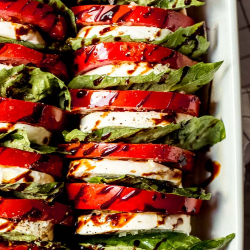 7) Tomato Mozzarella Salad with Balsamic Reduction

Servings: 8-10
Calories: 375

Ready to be the talk of the party? This Tomato Mozzarella Salad uses sweet, ripe tomatoes, creamy mozzarella and fresh basil and is sure to shine with a classy (but festive!) look that will make people wonder why they haven't tried the whole healthy-eating thing sooner.


Get the recipe at Little Broken.

---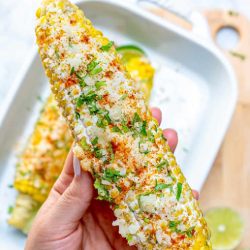 8) Healthy Mexican Street Corn

Servings: 4
Calories: 113
What would a barbecue be without corn-on-the-cob? Elevate it to the next level and add a Mexican flare with this Healthy Mexican Street Corn recipe that's made with cotija cheese, garlic salt and lime juice — add some chili powder to give it an extra little kick.


Get the recipe at Healthy Fitness Meals.




---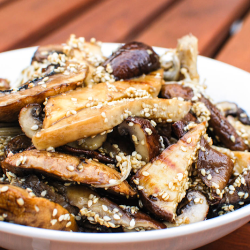 9) Grilled Mixed Mushrooms With Sesame Dressing Recipe

Servings: 4
Calories: ~200

Mushrooms on the grill, when done correctly, are quite the tasty treat. The trick is to baste them in a liquid ahead of time, and that's exactly what this recipe does. After they're grilled, you toss them in a sesame dressing for an additional level of flavor that makes for a heck of a side dish at your next barbecue.


Get the recipe at Serious Eats.

---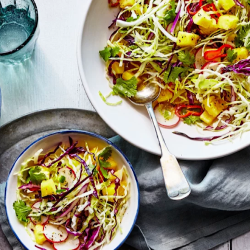 10) Spicy Pineapple Slaw Recipe

Servings: 8
Calories: ~100

It would have to be pretty special for us to put another slaw recipe on this list, and this Spicy Pineapple Slaw Recipe is just that. It skips the mayonnaise instead combines lemon and lime juice with olive oil, plus jalapeño, Fresno chiles and fresh pineapple for a delicious sweet and spicy flavor that will have you adding it to the "favorites" section of your recipe box after one taste.


Get the recipe at Southern Living.
---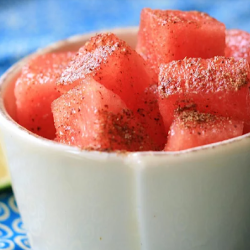 11) Spicy Watermelon

Servings: 2
Calories: 52

Watermelon at a barbecue is hardly a surprise, but why not take it to the next level by tossing it in some spices and diving it a bit of a kick? It's the kind of dish that your friends will probably tentatively try, only to load their plate after one bite.


Get the recipe at All Recipes.



---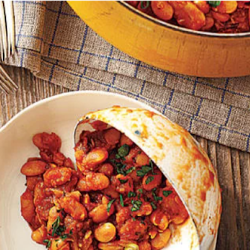 12) Smoky Baked Beans with Chorizo

Servings: 12
Calories: 184

Baked beans are a staple of any summer barbecue. This particular recipe adds in Spanish chorizo and uses several unique spices to elevate the flavor to the next level.


Get the recipe at My Recipes.

---

Do you have a favorite Labor Day recipe? Share it in the comments below!


------------------------------------------------------------------------------------
Author: Caitlin H
Diet-to-Go Community Manager

Caitlin is the Diet-to-Go community manager and an avid runner. She is passionate about engaging with others online and maintaining a healthy, active lifestyle. She believes moderation is key, and people will have the most weight loss success if they engage in common-sense healthy eating and fitness.